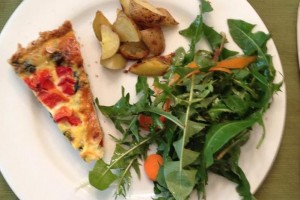 Quiche is a staple at our house. I make it at least once
per month. I will often make 2 at a time, serving one and
freezing the other. I like to vary the ingredients and will
generally use whatever veggies I have on hand. This
week I made the recipe below, and added roasted red
pepper for color. I served with a Dandelion Greens salad
(from the backyard!!) and roasted potatoes. Try it and let
me know what you think!
PREP AHEAD: CHOP
1 bunch ramps, cleaned and sliced (reserve 1/4 cup of the green parts for garnish)
2 cloves of black garlic
1 packets of buna-shimeji mushrooms (or any mushrooms you fancy will do)
REMAINING INGREDIENTS:
5 large eggs
1/2 cup whole milk
1 Tablespoon olive oil or butter
1/2 cup frozen peas
INSTRUCTIONS
Make your own crust (I like to make an Oat-based crust, super easy)  or pull out prepared crust.  Heat olive oil (or butter) in a saucepan over medium heat.  Add the ramps and sauté for two minutes.  Next, add in the garlic, mushrooms, frozen peas, salt, and pepper.  Sauté
for 5 or so minutes or until everything has softened.  Set aside.
Beat together the eggs and milk.  Pour the vegetable mixture into prepared crust and then pour egg mixture over it all.  Cook for 30 minutes or until the eggs have set and there are a few brown spots on top. Remove from oven and let cool slightly.  Season with more salt and pepper and top with ramp slices. Serve warm.